Yamuna® Body Rolling
​Do You Yamuna®? Give yourself the best massage you've ever had, just by rolling on a ball!
Entdecke die Möglichkeiten von Yamuna® Body Rolling!
Das Prinzip der Übungen ist es, einer bestimmten Sequenz zu folgen, die vom Knochen über die Sehne zum Muskel führt. Mit Yamuna® Body Rolling lassen sich Spannungen auflösen.
Es verbessert:
die Körperhaltung
den Blutkreislauf
die Funktion der Lymphgefäße
und steigert
die muskuläre Elastizität
die Flexibilität
den Muskeltonus
die Organfunktion.
YAMUNA YOGA Workshop                    
30.04.2022 & 08.05.2022 
In diesem Workshop kombinieren wir Yamuna Body Rolling und Yoga:
Zwei Stunden, nach denen ihr euch garantiert beweglicher und entspannter fühlt.
Yamuna Body Rolling ist eine Selbstmassage-Technik, bei der man mithilfe von Bällen tiefliegende Muskelketten erreicht und beansprucht. Es lassen sich Spannungen lösen, die Durchblutung und die Beweglichkeit werden verbessert.
In der Yoga-Asana-Praxis kräftigen und dehnen wir den gesamten Körper durch eine Kombination verschiedener Haltungen, synchronisieren Bewegungen mit unserem Atemfluss und stärken unser Körpergefühl.
Am 30.04.2022 von 12:00 bis 14:00 & am 08.05.2022 von 13:00 bis 15:00.
ORT:
Görresstr. 1, 50674 Köln
KOSTEN:
25,- Euro pro Person
English
​Body Rolling allows you to "work on yourself" any time, anywhere.
Yamuna's signature Body Rolling technique teaches you how to effectively work every part of your body. In class or at home, problem solve and self heal your whole body so it works better for you at every age. It's the perfect body tool!
​Body Rolling allows you to "work on yourself" any time, anywhere.
Benefits
Improved posture
Increased range of motion
Improved alignment in all parts of body
Increased muscle tone
Increased flexibility
Increased organ function
Improve circulation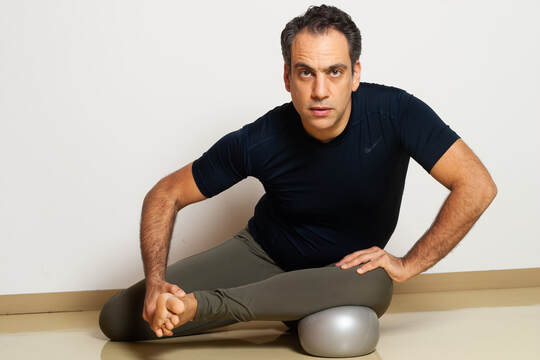 Informieren Sie sich über unsere kommenden Workshops und Kurse
Find out about our upcoming workshops and courses
Nikos Konstantakis
Berrenrather Straße 188
D-50937 Köln
​Photo credits: Silke Manz
Nikos Konstantakis is certificated
Yamuna® Body Rolling trainer since June 2021.
He was trained by Flavia Tabarrini in Body Works Cologne.